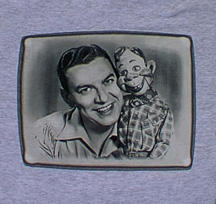 It's Howdy Doody Time!
Recently we were ministering on a Sunday morning at a church in Florida. I was seated on stage with Bob and the Pastor of the church. As Bob was speaking, I heard the Lord say "IT'S HOWDY DOODY TIME!" It startled me and I totally lost track of what Bob was saying.
I began asking the Lord what He was saying in this because I knew it was a word for this church but also for the church worldwide because of the word TIME.
I began racing back through my memory bank to what I could remember about Howdy Doody. I can remember watching the show on a small TV set at my grandparent's house. The screen was small and round and you had to sit close to see the black and white screen. I remembered Buffalo Bob, Howdy Doody, Clarabell the Clown and of course the peanut gallery. But what was God really saying to me in this?
A Time Of Innocence
Then it dawned on me, it was a time of innocence! A time when things were BLACK & WHITE. There was no gray matter; no mixture. Yes meant yes, no meant no. Men were men and women were women. There was a time of family being family; spending time together. It wasn't instant everything. Children were children not adults. Love surrounded the family because there was a family unit. Children weren't made to think as adults. They were content sitting and listening to grandparents tell about the good old days and gain wisdom from them; gleaning their fields. Every member of the family had responsibility without expectation. It was a part of life; everyone pulled their own weight and was thankful for what they had. The doors were never locked and there seemed to be a sense of honesty among people.
Back To The Garden
I realized that the Lord was saying we must to go back to a time of innocence like Adam in the garden. It's time to become one mind with God. Recently I heard the Holy Spirit say "he was known greater by his fall than by his name." I knew He meant Adam. His name means from the red earth. Adam is the only one that God breathed His breath of life into and he became a living being. He walked with God daily gaining wisdom and understanding. He was the fruit of the Spirit; love, joy, peace, patience, kindness, goodness & self-control. (Galations 5:22-23)  He had the seven spirits of God within him; the Spirit of the Lord, wisdom & understanding, counsel & might, knowledge & the fear of the Lord. (Isaiah 11:2) He knew nothing else! We must become innocent like Adam was in the garden with God.
The Master
Howdy Doody was a freckle-faced puppet; a marionette. Which means he was operated from above by a set of 11 strings. His operator was called a puppet master or manipulator or controller. Buffalo Bob was his voice. Therefore, Howdy could only do what the master controlled him to do and could only say what the master said. I believe God is saying, that when we come back to that place of childlike innocence and walk in oneness with Him like Adam did, we will only do what the Master does and say only what the Master gives us to say. Our will will be His Will and our way His Way. No longer will we control our life; we will be totally submitted and obedient to the Master.
Peanut Gallery
The Howdy Doody Show was broadcast on NBC from 1947 until 1960. It was a pioneer in children's programming and set the pattern for many similar shows. Each week day 40 children from all over the United States sat patiently and quietly waiting to sing the Howdy Doody theme song with Buffalo Bob. They also participated with answering questions related to the show. They were neatly dressed and well behaved children content to watch the puppet show in wonderment even though the strings were quite visible. Innocence!
I believe there is a special blessing for that generation of survivors. Forty speaks of the wilderness and I believe that generation has come to the end of wilderness wandering. They are coming out of the wilderness leaning on their Beloved. (Song Of Solomon 8:5) they will come forth in power and demonstration of the Kingdom of God.
Clarabell Speaks
Through the duration of the Howdy Doody Show, Clarabell the clown played a significant role. He was always visible although silent. He communicated by honking his horn or spraying seltzer water. His expressions by pantomime were priceless. He was originally played by Bob Keeshan who later became Captain Kangaroo. The most famous moment in the history of the show came during the closing seconds of the final show when Clarabell surprised the audience by saying "Good-bye, kids."
Clara means Shining Christ Light (Psalms 36:9) For with You is the fountain of life; in Your light do we see light. 
Bell means Beautiful One, Blessed One (Psalms 104:33) I will sing to the Lord as long as I live; I will sing praise to my God while I have any being. 
Although it was a sad time for children of all ages with the closing of the show I believe God is redeeming that which was lost at that time. The glory of the Lord is about to shine forth on His body(Isaiah 60:1) We will walk in the garden like Adam did with God, naked and unashamed. Naked means innocent. We will be dressed in the beauty of holiness or in holy array and the glory of the Lord will guide us. (Psalms 29:2) 
God will raise up the tabernacle of David and close up its breaches and I will build it as in the days of old. (Amos 9:11)  Praise will reach an all new level of anointing as the harvest begins.
Recently in a vision I was fishing at the breakwaters of Lake Erie. I was using praise for bait and catching lots of large fish; too numerous to count. I felt this indicated a breaking forth of the waters of salvation. New songs are being released with a new sound from heaven and many will be sung by unknown singers. Ones who have the heart of worship like David. And the earth shall be filled with the knowledge of the glory of the Lord as the waters cover the sea. (Isaiah 11:9)
It's Time To Start The Show!
Let's hear a rousing cheer,
Cause Howdy Doody's here.
It's time to start the show,
Astounding isn't it? It's time to start the show! The greatest show on earth is about to begin. The greatest harvest of all times is at hand. Recently I took my grandsons to the Ringling Bros. Barnun & Bailey Circus. The Ring Master announced "ladies and gentlemen, children of all ages, welcome to the greatest show on earth!" And the excitement began. I believe we are living in the most exciting time in the history of mankind. The greatest harvest of souls is about to begin and the plowman shall overtake the reaper. (Amos 9:13) Our Ring Master is taking center ring with arms outstretched and calling the lost to Himself.
Upcoming Events
March 22 @ 7:00 pm

-

9:30 pm