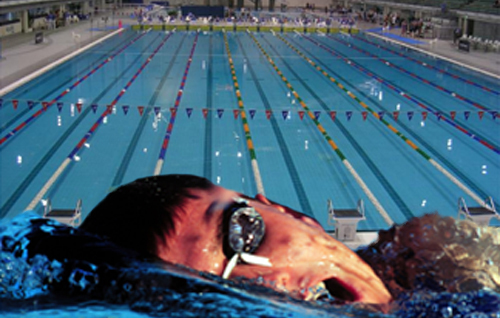 Record Breakers
By Lyn Kost
A few nights ago I had a series of 2 dreams involving my old high school swimming pool. It was an olympic sized pool of 50 meters in one direction and 25 yards in the other. A moveable bridge would usually divide the 50-meter pool in half so that multiple teams could practice at the same time. Only occasionally would the bridge be moved for college meets enabling them to use the full 50 meters. In the first dream the bridge had been moved and I had the pool to myself. My high school swim coach was the only other person there. I began swimming the 50-meter length very fast. On my return length I was swimming even faster. I only took about 4 or 5 strokes to swim the return length. When I had finished my coach told me I had completed the 100 meters in 30 seconds.
In the second dream the bridge was moved aside again and a swim meet was underway. The area was full of people. A different coach was there. I assumed he was with one of the teams. Seeing that the lanes were being used, I decided to swim between the lanes. A race had already begun and I moved between lanes 2 and 3. I started swimming as fast as I could. I soon passed all those in the race and turned for the return length. When I finished the coach called out to everyone at the meet. "Today we are all witnesses. A world record has been broken, and this man has brought it", he said pointing to me. "His time is 36 seconds". Again I had completed 100 meters.
When I awoke, I checked online to see what the current world records were for this specific event. A man from Brazil named Cesar Cielo set the current record in Rome, Italy in 46.91 seconds. God sometimes uses names to speak to us. The Spanish word "Cielo" translates to "Sky" in English. Currently there is a Caesar of the sky who is holding some of the records that we are supposed to be breaking.
(Ephesians 2:1-10) says, "As for you, you were dead in your transgressions and sins, in which you used to live when you followed the ways of this world and of the ruler of the kingdom of the air, the spirit who is now at work in those who are disobedient. All of us also lived among them at one time, gratifying the cravings of our sinful nature and following its desires and thoughts. Like the rest, we were by nature objects of wrath. But because of his great love for us, God, who is rich in mercy, made us alive with Christ even when we were dead in transgressions—it is by grace you have been saved. And God raised us up with Christ and seated us with him in the heavenly realms in Christ Jesus, in order that in the coming ages he might show the incomparable riches of his grace, expressed in his kindness to us in Christ Jesus. For it is by grace you have been saved, through faith—and this not from yourselves, it is the gift of God— not by works, so that no one can boast. For we are God's workmanship, created in Christ Jesus to do good works, which God prepared in advance for us to do."
I feel this is the year that we begin breaking records; private and public, personal and worldwide, natural and spiritual. The bridge in the dream represents the Holy Spirit. When we let Him move we can do all things through Christ who strengthens us, and we will begin to see records break. However, if we move Him out of our way, we will experience adverse records being broken; ie Economy, Weather, government, etc.
In scripture we are told that the church goes through judgment first. If we then are the forerunners of things to come, let us set the standard and allow the Holy Spirit to do the moving so that we can participate in the race set before us and break all previous records.
Upcoming Events
March 22 @ 7:00 pm

-

9:30 pm