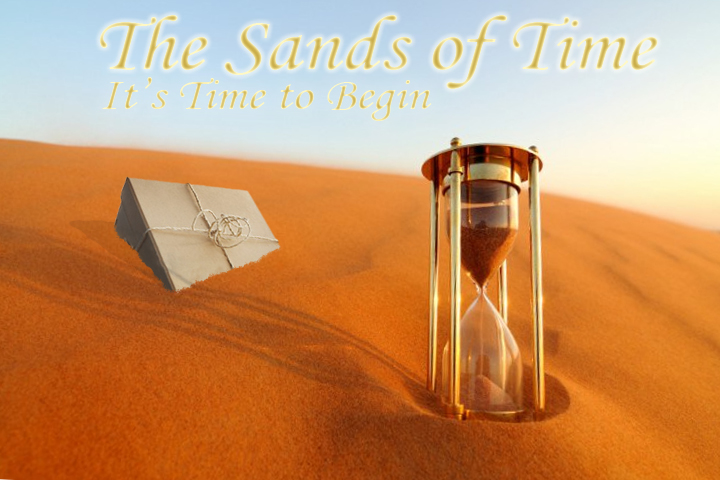 Sands of Time – It's Time to Begin!
by Bonnie Jones
Recently in a vision I saw the Lord standing on the seashore holding a large hourglass filled with the sands of time. As I watched, He gently turned it upside down and placed it upon the beach. Suddenly my eyes were drawn to notice the time; it was exactly five o'clock. Immediately in my spirit I felt the Lord saying, "It's time to begin!"
Bob Jones' Vision of the Sands of Time
In January of 1979, Bob was taken in a vision to a place by the sea called the "Sands of Time." Bob said he saw great men there such as Elijah, Elisha, John and the martyrs. Each one including the Apostle Paul placed their hands down into the sands of time to bring up what looked like old shoe boxes. As each one did, Bob could hear them say, "Is it my time? Are the promises for now?" But with each of these leaders there was nothing in their shoebox because the promises weren't for their generation.
Then the Lord told Bob to reach down into the sands of time to pull up his box, but Bob said, "Lord, they are all empty!" But the Lord told Bob to do as he was told. So Bob reached into the sands of time and pulled out his shoebox. As he opened the box he was shocked to see what was inside. The box was filled with white envelopes placed neatly inside. As he opened them he saw that they were draft notices that said, "Greetings, you have been inducted into the Army of God." However, none of these draft notices had postage stamps.
Then the Lord told Bob, "I will begin to send these letters out to My leaders when it costs twenty cents to mail a letter." At the time of this vision, postage cost eleven cents to mail a letter. No one ever thought that the price would go up again. But on October 13, 1981, it cost twenty cents to mail a letter. And the Lord said to Bob, "Everyone that was conceived, that was in the womb, or nine months prior was literally the army of God. The first would be leaders and the second would be the greatest army that nothing could ever stop. And when they reach the age of maturity I am going to begin to release them in power. I will arm them out of My armory in Heaven and there is no gift that I will deny them. They will literally pull down the warehouse of God and they will have no fear of the enemy. They will glorify Me beyond anything that has ever been. They will represent Me in My holiness and compassion." They are Mine. They are the army of youth and they will be holy terrors.
Thirty Years Later
October 13, 2011 marked thirty years from the date postage cost twenty cents. Thirty represents the age of maturity for the priesthood. That was Jesus' age when He began His public ministry that lasted three and a half years. There has now been a three and a half year time frame since the thirtieth anniversary of Bob's "Sands of Time – Shoebox" prophecy and my "Sands of Time – Hourglass" vision. It is my belief that both these are closely related prophetic parables.
Although we live in a microwave world and expect everything to happen immediately, God is never in a hurry. His timing is always perfect; never early, never late but always on time. I believe the army of God that received their draft notice in 1981 came into their place of maturity in 2011. However these past three and a half years has been a time of God sifting them to determine who would remain faithful till the end.
Now!  It's Time to Begin!
"Is it my time? Are the promises for now?" That's the question Bob heard previous great men ask as they placed their hands into the sands of time. Although their boxes were empty Bob's contained the promises for the generation conceived or born since October 1981. But now the Lord has overturned the sands of time hourglass releasing these inductees into His end-time army and they will be the most powerful force on earth. They will be the army of "greater works" fully equipped in resurrection power and glory.  This army carries a breaker anointing to break the chains of offense, oppression, lawlessness and religion.
The time on the hourglass was five o'clock and five represents God's grace. I believe that during the past three and a half years this emerging army learned the importance of true humility. God resists the prideful but gives grace to the humble. His grace will rest upon this army and there is nothing He will withhold from them.
[Submit to God, Resist the Devil] Likewise you younger people, submit yourselves to your elders. Yes, all of you be submissive to one another, and be clothed with humility, for "God resists the proud, But gives grace to the humble." (1 Peter 5:5)
Upcoming Events
February 14 @ 6:00 pm

-

9:00 pm