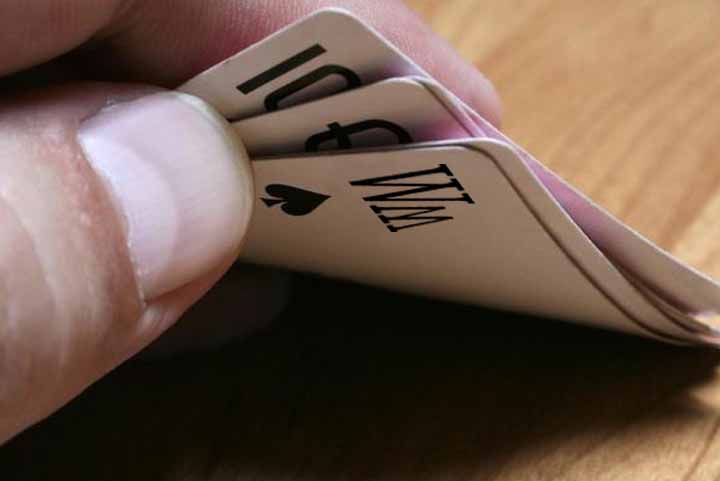 William McKinley – The "Trump" Card
This morning I saw the face of President William McKinley on the playing card Donald Trump held in his hand.
I believe that victory is at hand for Donald Trump in the state of Ohio. Although the deck has been stacked against him I believe Mr. Trump will be triumphant at the Republican National Convention later this month. I further believe that he will win the state of Ohio in November. It is a fact that no presidential candidate has ever won the White House without winning Ohio. Therefor I believe the Lord was showing His card that will "trump" the devil's ace.
Why William McKinley?
Karl Rove recently released a book called, "The Triumph of William McKinley – Why the Election of 1896 Still Matters." His book takes a fresh look at President William McKinley from Ohio, whose 1896 campaign ended a bitter period of political gridlock and reformed and modernized his party, thereby creating a governing majority that dominated American politics for the next thirty-six years.
The 1896 political environment resembles that of today: A rapidly changing electorate affected by a growing immigrant population, an uncertain economy disrupted by new technologies, growing income inequality, and contentious issues the two parties could not resolve. McKinley found ways to address these challenges and win, which is why his campaign is so relevant to our politics now.
Rove hails the way "McKinley and his managers placed a premium on organization, applying business methods to politics, particularly to the tasks of persuasion and mobilization."
In 1896 McKinley secured the Republican nomination for president during a deep economic depression and defeated his Democratic rival, William Jennings Bryan. I believe there are many similarities between President McKinley's campaign and Donald Trump's. William McKinley was up against a powerful man whose mere blood was politics. In the same way Donald Trump is running against a political machine whose corrupt nature has infiltrated the Democratic Party's bloodline. Now there seems to be no remorse and the ghost of Christmas past has captivated the very soul of its party. Power, wealth and greed have replaced love, honor and respect for the Constitution and the people it's meant to protect and serve.
Beware The Dark Horse
Mr. Trump's platform is to "Make America Great Again" and I believe that is the heartbeat of the Father. Trump is the dark horse coming from behind. A dark horse is a candidate or competitor about whom little is known but who unexpectedly wins or succeeds. In the natural it looks as if the deck is stacked against him. But Donald Trump has grit and he's holding the card that will "trump" the devil's ace. Although it is frustrating to watch our government embrace hypocrisy we must not lose our focus.
And we know that all things work together for good to those who love God, to those who are the called according to His purpose. (Romans 8:28)
Let us as a body of believers focus on what God is doing in this adverse situation. The body of Christ falls prey to the enemy when it takes its eyes off Him and focuses on what the enemy is doing. I believe that we in fact fuel the flames of the enemy by investing our energy on all the wrongdoing in our government. Why not turn our disappointments into prayer and praise God for sending His choice into the lion's den on our behalf? Just like Esther was prepared for such a time as this to stand in the gate for her nation, I believe Donald Trump has been chosen to stand in the gap for America. Perhaps he doesn't come in the normal political package we've embraced in the past. But he's come in the demeanor that God has prepared for him his entire life. He's come in boldness and righteousness for all peoples.
I heard his message the other night from Raleigh, NC where he stated, "I'm just the messenger!" And I say, behold he is! He is the messenger, like Jonah, that God has sent to a stubborn nation. It's time the body of Christ awakens from her long sleep and intercedes for Mr. Trump. It's time to praise God for His mercy and grace.
The Curse Is Over
In July 2005 Bob Jones was ministering in Cincinnati, Ohio when he had a prophetic encounter. In a vision he saw a great man, who in the past had fallen asleep. He was lying on his back and his name was Gulliver. Little people from a place of "little input" had completely tied him down. He was waking up from being asleep for the past thirty-eight years. We can also call Gulliver the Body of Christ. Bob saw that the head of this very large man was in Cleveland, Ohio, in a place called "Jacob's field."
The Republican National Convention will be held at the Quicken Loans Arena in Cleveland directly across the street from "Jacob's field" (currently known as Progressive Field) home of the Cleveland Indians. I find it quite interesting that just last month the Cavaliers beat the Golden State Warriors to end a 52-year championship drought in Cleveland and give the Cavaliers their first NBA title. During the award ceremony, NBA Commissioner Adam Silver exuberantly said, "The curse is over!" I believe Commissioner Silver is correct. There has been a curse over Cleveland and it has now come to an end. Therefor what the enemy means for evil God is going to turn it for good.
Time For Open Heaven
I believe curse that reigned over Cleveland for fifty-two years is over! Now it is time for an open heaven. First comes the natural and then the spiritual. Watch and see what God does in the absence of man. Delegates with electoral votes have turned away from supporting Trump. Ohio Governor Kasich refuses to attend the convention or endorse the candidate as he once promised. Surprise? No not at all.  Many disciples turned away from following Jesus and only the twelve remained. In the same way Republicans are supposed to be loyal to their party's candidate but they have boldly turned their allegiance to the other side.
From that time many of His disciples went back and walked with Him no more. (John 6:66)
In Bob's vision Cleveland represents the head that is awakened and now the curse is removed. Watch what happens when the rest of His body comes to life and stands in agreement with the justice of God. Columbus is the heart and also the seat of Ohio's government. Let the body of Christ work together for the good of this nation and support what God is doing to redeem her.
As it was in the 1896 election with William McKinley so let it be with Donald Trump in 2016; a triumphant victory!
Notes:
**William McKinley was born in Niles, Ohio but after returning from the Civil War made his home in Canton, Ohio where he practiced Law and ran his victorious front-porch campaign in 1896.
**Canton, Stark County, Ohio is a Democratic stronghold.
**Canton, Ohio is my birthplace and home for 51 years. I labored hard for years and believe that the whole state of Ohio will know Jesus.
**Bob's complete "Gulliver" prophecy includes the whole state of Ohio because Gulliver's head is in Cleveland, his heart in Columbus, and reproductive organs in Cincinnati. His right arm is in Indianapolis and the left in Philadelphia. His right foot is in Nashville and the left in Charlotte. Bob said, "God means to take Ohio, then move over to Indianapolis and up into Illinois, crossing over into the east, and finally, standing completely upright in Atlanta." The Lord told Bob that to take Atlanta would mean capturing the whole south.
Upcoming Events
February 14 @ 6:00 pm

-

9:00 pm