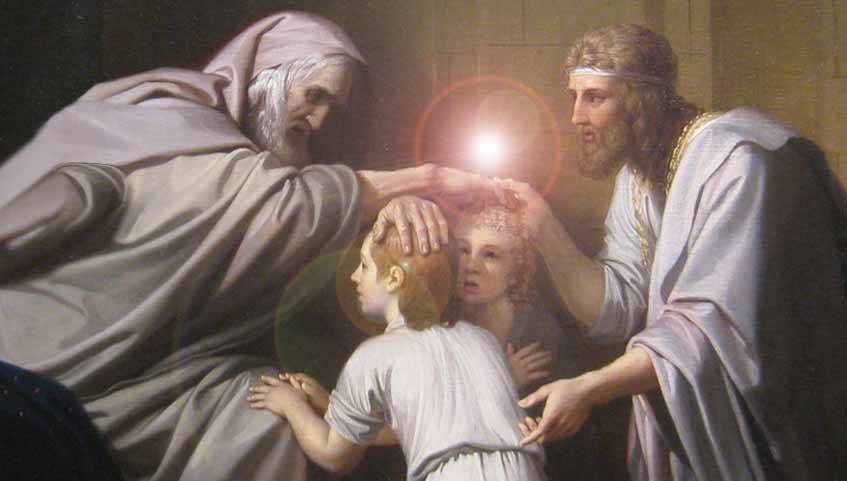 THE "X-FACTOR"
By Bonnie Jones
June 2017
In May of 2009 Bob audible heard the Lord say "X-Factor" and He showed him that it was the double blessing of Ephraim. Bob explained that as Jacob was dying he prophesied and released blessings to his bloodline that was customary in that day for the Patriarch to do. In this case, Jacob began with his grandsons first, Ephraim and Manasseh. With Jacob lying upon his bed, Joseph placed his eldest son Manasseh at his right hand and Ephraim at his left. Because Manasseh being the first-born would receive the greater blessing. However Jacob crossed his hands and imparted the first-born double blessing to Ephraim.  This displeased Joseph and he tried to uncross his father's hands. But Jacob refused.
Then Israel saw Joseph's sons, and said, "Who are these?" And Joseph said to his father, "They are my sons, whom God has given me in this place." And he said, "Please bring them to me, and I will bless them." Now the eyes of Israel were dim with age, so that he could not see. Then Joseph brought them near him, and he kissed them and embraced them.  And Israel said to Joseph, "I had not thought to see your face; but in fact, God has also shown me your offspring!" So Joseph brought them from beside his knees, and he bowed down with his face to the earth.  And Joseph took them both, Ephraim with his right hand toward Israel's left hand, and Manasseh with his left hand toward Israel's right hand, and brought them near him. Then Israel stretched out his right hand and laid it on Ephraim's head, who was the younger, and his left hand on Manasseh's head, guiding his hands knowingly, for Manasseh was the firstborn.  And he blessed Joseph, and said: And the name of my fathers Abraham and Isaac; And let them grow into a multitude in the midst of the earth."
Jacob peered into the eternal destiny of his two grandsons and prophesied their future. He agreed with God and spoke their destiny into existence. He saw that Manasseh would be a strong nation but the younger son would be greater. Therefore in agreement with God Jacob intentionally reversed the birth order and Ephraim received the first-born son's double blessing.
Now when Joseph saw that his father laid his right hand on the head of Ephraim, it displeased him; so he took hold of his father's hand to remove it from Ephraim's head to Manasseh's head. And Joseph said to his father, "Not so, my father, for this one is the firstborn; put your right hand on his head." But his father refused and said, "I know, my son, I know. He also shall become a people, and he also shall be great; but truly his younger brother shall be greater than he, and his descendants shall become a multitude of nations." So he blessed them that day, saying, "By you Israel will bless, saying, 'May God make you as Ephraim and as Manasseh!'" And thus he set Ephraim before Manasseh. (Genesis 48:8-20)
Ephraim, Son of My Light
On April 21st this year, my youngest grandson was born. A big boy weighing in at 9 pounds 10 ounces. This beautiful baby's name is Ephraim, which means fruitful or double blessing. I began to pray about the significance of Ephraim's date of birth being April 21, 2017 and the Lord began to unravel the mystery to me. First He gave me a prophecy saying:
He will be a strong ox not a bully but strong in the Lord. His strength shall be from Me. Fear not says God; I lay My hand upon him this day and prepare him for ministry unto Me. A king and a prince he shall be and stand shoulders above the rest. A gentle spirit yes, but a strong voice to the nations. You shall see at an early age his voice develop in song and praise and it shall vibrate heaven as it releases praise to the unknown, unregenerate heart. You see I preserved this child to perform miracles for Me. When he releases his voice all heaven hears and earth rejoices. Now go this day and usher in My beloved son; son of My Light. Amen.
Several days later He gave me the name "Jubal". To my surprise the only place in scripture it is found is Genesis 4:21. Jubal was the father of all musicians.
His brother's name was Jubal; he became the father of all those [musicians] who play the lyre and flute. (Genesis 4:21 Amplified)
When I combined this scripture along with the prophecy for my grandson Ephraim, I believe that the Lord is speaking about the generation of children alive on the earth this day and the ones being birthed through this movement of God. There is a special anointing on them to be a strong voice to the nations through praise, worship and prophetic declarations. All heaven shall vibrate when they release their voices. These are the children of His Light. They shall not walk in darkness but in the power of His glorious light. They will be more heavenly minded than past generations. Therefore it's important that we as parents and grandparents are good stewards of the anointing on these gifted children. We must pay attention to their dreams and prophetic experiences and guide them along the narrow path. Satan sees their light and will come to steal, kill and destroy it. Let us be wise to his antics and cover our little ones continuously.
Children are for Signs and Wonders
Just the other day I had an open vision where I saw fire and glory resting upon young children. It was like the day of Pentecost. These small children moved and had their being in the Lord and there was no fear of man in them. They simply went about doing the Father's business of preaching, prophesying, healing the sick and raising the dead. They were living breathing signs of His glorious light.
Many years ago I had a dream where I had just given birth and immediately my baby began talking, walking and running. He was full of wisdom and the glory of God rested upon him. Children are given to us for signs and wonders. (Isaiah 8:18a) Just today I saw a video where a baby girl was born in Brazil on May 31st. Within minutes following the birth, while the midwife was trying to bathe her, she began to walk. When the midwife laid her down to finish cleansing her, she got up and began walking again. This is a supernatural sign; first the natural then the spiritual.
I believe you are going to see and hear more of these kinds of stories. You can't manufacture them. This is God. And I believe that in this time of harvest you are going to see many new converts walk in the supernatural immediately. It's not going to take them five years or even three months. They are going to be born again into the supernatural faith of God without fear, doubt and unbelief. Immediately they will trust God and His word and walk in the greater works Jesus promised.
Recently the Lord told me that deep in the soul of mankind lay truths to be uncovered yet many never want to know truth. Why? When man understands truth then they must face reality and it is not at all what they have been taught to believe. Belief is a strong issue in man's soul. But I want man to move out of belief and enter into trust. You see I am the Way, the Truth and the Life. First you must believe that I am the Way. I'm the Son of God and only way to the Father and eternal life. Then you can trust in My name; the name above all names. Then you are assured of eternal life.
The X-Factor
Crossing Over
Throughout scripture God intentionally chose the second-born son over the first-born to receive the double blessing. He chose Able over Cain. But since Cain killed Able, God chose Seth. He chose Isaac over Ishmael, Jacob over Esau and Moses over Aaron. In fact He chose David over all of his brothers. Each of them received the inheritance of the first-born by choice not birth order. Why? God knew they had the greater destiny. The firstborn son in patriarchal society was regarded as special and became the head of the family upon his father's death, having received his father's blessing and a double portion of the inheritance.
Now when Isaac was old and his eyes were too dim to see, he called his elder [and favorite] son Esau and said to him, "My son." And Esau answered him, "Here I am."  Isaac said, "See here, I am old;I do not knowwhen I may die.  So now, please take your [hunting] gear, your quiver [of arrows] and your bow, and go out into the open country and hunt game for me; and make me a savory and delicious dish [of meat], the kind I love, and bring it to me to eat, so that my soul may bless you [as my firstborn son] before I die." (Genesis 27:1-4 Amplified)
Pentecost and Jubilee
Bob said the "F" in "X-Factor" represented fifty and that means Pentecost and Jubilee. We are currently in the Season of Pentecost and I believe it's a time of God's power resting upon His people like it was in the Upper Room two thousand years ago. And 2017 is a Jubilee year, which means a year of rest, liberty and restoration for the body of Christ. So to sum it up I believe there has been a crossing over in the church. And God is laying His hand upon His chosen ones in this day to receive the inheritance of the first-born Son Jesus Christ. To those who are willing to believe and trust in the name of Jesus, they will walk in the faith of God and do the greater works of John 14:12. For surely the Father has given His children all power and authority to defeat the enemy. And in this day they are going to demonstrate their kingdom authority power and honor the Father through word and deed.
I assure you and most solemnly say to you, anyone who believes in Me [as Savior] will also do the things that I do; and he will do even greater things than these [in extent and outreach], because I am going to the Father. (John 14:12Amplified)
As a body of believers we are second born of the Father and in this day He is stretching forth His hand to bless His children. So get ready for the body of Christ to cross over WITH the blessing of the first-born in the POWER of PENTECOST. You only need to receive it.
Upcoming Events
February 14 @ 6:00 pm

-

9:00 pm