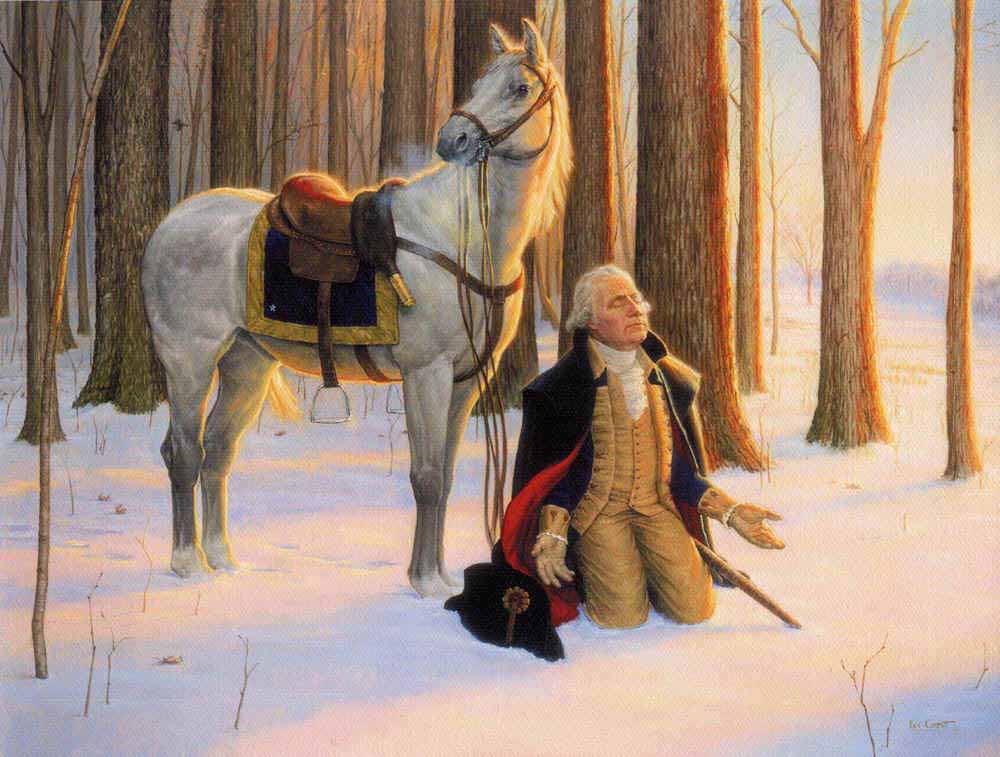 Appeal to God
The Remnant's Responsibility
By Bonnie Jones
February 2018
Presently the Lord is speaking to me regarding the remnant. He said, "It is in this day I'm gathering the remnant unto Myself. Why? They have been consecrated and set apart unto Me. It is in this day I reveal Myself in a new way to those who are willing to receive Me."
General George Washington
I believe that sometimes God sends one of His heavenly saints to earth to deliver a message. Hebrews 12:1 says that we are surrounded by so great a cloud of witnesses. These are saints who have finished their course here on earth and now have gone on to glory to reside in the presence of Almighty God. Twice within a week I saw General George Washington as he stood in my bedroom. While taken by surprise, I believe he stepped out of the great cloud of witnesses to deliver a message for all Americans. Although he was the President, I saw him as Commander of the Lord's Army who was exerting his authority as Father of this nation. He stood tall and proud dressed in a red wool jacket with gold buttons and white trousers. His face was kind yet stern while his eyes were piercing as he looked at me. Then he turned his face upward toward heaven and began making a plea for all Americans to "Appeal to God!"
But what is our appeal today? The Lord took me to Malachi 3 for greater understanding.
Return to Me,
And I Will Return to You
"Yet from the days of your fathers you have turned away from My statutes and ordinances and have not kept them. Return to Me, and I will return to you," says the Lord of hosts. "But you say, 'How shall we return?' (Verse 7)
This message is not for the unsaved, it's for the righteous. The unsaved have never known God nor His Son Jesus so they are not the ones returning to Him. There are many Christians who have gone astray. Many have grown weary in their journey of faith and for various reasons have fallen by the wayside. Many have grown tired waiting for promises to be fulfilled while others have allowed the enemy to wear them down. Now is the time for re-evaluation and re-commitment. It's time for Christians to turn back to God with a whole heart.
8 "Will a man rob God? Yet you are robbing Me! But you say, 'In what way have we robbed You?' In tithes and offerings [you have withheld]. 9 You are cursed with a curse, for you are robbing Me, this whole nation! 10 Bring all the tithes (the tenth) into the storehouse, so that there may be food in My house, and test Me now in this," says the Lord of hosts, "if I will not open for you the windows of heaven and pour out for you [so great] a blessing until there is no more room to receive it. Then I will rebuke the devourer (insects, plague) for your sake and he will not destroy the fruits of the ground, nor will your vine in the field drop its grapes[before harvest]," says the Lord of hosts.  (Malachi 3:8-11)
What is God requiring of us?
Let's break this scripture down. Is it our finances? No! I've heard this scripture quoted many times as a tool to receive tithes and offerings. I believe finances play a small part however God desires the fullness of our heart and our time. God says that we should bring all the tithes into the storehouse so that there may be food in His house. What is the tithe? It's surrendering the fullness of our being; body, soul and spirit unto Him. And what is this food? In John 4:34 Jesus said that His food is to do the will of the Father and completely finish His work. Therefor God desires that our will conform to His – on earth as it is in Heaven.
Tested and Blessed
God says, "Test Me in this!" What is our test? Our test is whether we're willing to offer our self as a living sacrifice. Are we willing to follow Him without compromise? Are we willing to be the living water and bread of life to others? Can we love the unlovely and turn the other cheek when we're persecuted?  Will we walk through the fire of affliction and not succumb to the flames? Are we able to forgive others because He has forgiven us? Can we cast all our cares upon Him? When we deny Him nothing then He pours out His blessings unto us. And it's with such abundance we cannot contain it. (Verse 10) And He will rebuke the devourer (Verse 11) for the sake of His faithful children. So in a time of deep darkness in the nation, no plague shall come near the door of the righteous and as a result they shall be blessed.
Has America Robbed God?
Woe to them! For they have gone the [defiant] way of Cain, and for profit they have run headlong into the error of Balaam, and perished in the rebellion of [mutinous] Korah. (Jude 11)
Since the church, as a whole, has not exercised its authority the door swung open wide for the world to exert its authority and so it did. There's been a downward spiral since prayer was removed from public school in the sixties. Then abortion was legalized in the seventies and the use of illegal drugs continues to soar. Later the church ordained homosexual ministers and same-sex marriage became legalized. God has been removed from schools, government institutions and public gatherings yet pagan gods are highly exalted. With the increase of technology and social media the cross of Jesus has been compromised. More light shines on television, Hollywood and the Internet than the Word of God except in the negative form.
I believe this nation has walked in the ways of the world instead of godliness therefore it is guilty of robbing God. (Verse 8) Cain had enmity in his heart, (Genesis 4:5) Balaam mixed truth with false doctrine (Numbers 22 and 23) and Korah rejected true leadership that caused many to perish (Numbers 16). I'm afraid this nation has followed in their footsteps that caused her downfall and ultimate judgment.
Who Can Endure the Day of His Coming?
2 But who can endure the day of His coming? And who can stand when He appears? For He is like a refiner's fire and like launderer's soap [which removes impurities and uncleanness]. 3 He will sit as a refiner and purifier of silver, and He will purify the sons of Levi [the priests], and refine them like gold and silver, so that they may present to the Lord [grain] offerings in righteousness. (Malachi 3:2-3)
Who can endure the day of His coming? (Malachi 3:2) God has been sifting the body of Christ for some time now. He's been purifying His sons and daughters and calling them into holy matrimony with His Son. Therefore His sons and daughters shall stand strong and prosper while the wicked shall fall during the time of judgment that is coming upon America. The remnant has allowed His refiner's fire to burn away all ungodliness. They chose to fall on the Rock and be refined by God's holy fire.
America Has Lost the Fear of the Lord
16 Then those who feared the Lord [with awe-filled reverence] spoke to one another; and the Lord paid attention and heard it, and a book of remembrance was written before Him of those who fear the Lord [with an attitude of reverence and respect] and who esteem His name. 17 "They will be Mine," says the Lord of hosts, "on that day when I publicly recognize them and openly declare them to be My own possession [that is, My very special treasure]. And I will have compassion on them and spare them as a man spares his own son who serves him." 18 Then you will again distinguish between the righteous and the wicked, between the one who serves God and the one who does not serve Him. (Malachi 3:16-18)
God has taken note of those who fear Him. Those who stand in awe of His presence and seek Him with a whole heart. They have no other god before them. The idols of their heart have long ago been destroyed while the fruit of the Spirit manifests fully among them. And their love causes a ripple affect wherever they go. Christ is their cornerstone and the cross is the measure for which there is no compromise.
In this day God is exalting His children. He's bringing them to the forefront for everyone to see as He promotes them openly. And there shall be no mistaking those who He chooses as righteous and whom He deems wicked. For the arm of the Lord is not shortened not even a little. And when His book is opened all the world will understand, recognize and honor those who the Lord chosen.
Let the Redeemed of The Lord "Say So"
Let the redeemed of the Lord say so, whom He has redeemed from the hand of the adversary (Psalm 107:2)
On the day I saw George Washington standing in my bedroom, he was making a plea for America to return to God. I fully believe he was calling upon dedicated Christians to stand in the gap for all Americans. Some Americans are uncommitted Christians and many Americans are still unsaved. While a great number are walking in wickedness and partaking of things God considers an abomination. (Proverbs 6:16-19)
9 The Lord said to Moses, "I have seen this people, and behold, they are a stiff-necked (stubborn, rebellious) people. 10 Now therefore, let Me alone and do not interfere, so that My anger may burn against them and that I may destroy them; and I will make of you (your descendants) a great nation."(Exodus 32:9-10)
In the same way Moses pleaded with God not to destroy the Israelite children, today the remnant must stand in the gap for America.  You see the wicked don't realize they are sinning against God. Until they have knowledge of Jesus their minds are carnal and they have no understanding. On the other hand the remnant is well acquainted with the Father, Son and Holy Spirit of Truth. Therefor they must enter into agreement with the will of the Father that all man should come to the knowledge of His Son Jesus. (1Timothy 2:3-4)
11 But Moses appeased and entreated the Lord his God, and said, "Lord, why does Your anger burn against Your people whom You have brought out of the land of Egypt with great power and a mighty hand? 12 Why should the Egyptians say, 'With evil [intent] their God brought them out to kill them in the mountains and destroy them from the face of the earth'? Turn away from Your burning anger and change Your mind about harming Your people.
The burden of prayer for America lays at the mouths, hands and knees of the remnant. They MUST stand in the gap for her through prayer and intercession. And when they hear from God they must stretch forth their hand and make a decree so it will be established. (Job 22:28) Then perhaps like in the day of Moses, God will relent and save this nation.
Founding Fathers Of The American Revolution
The Founding Fathers of the United States were those of the Thirteen Colonies in North America who led the American Revolution against the Kingdom of Great Britain and contributed to the establishment of the United States of America. Historian Richard B. Morris in 1973 identified the following seven figures as the key Founding Fathers: John Adams, Benjamin Franklin, Alexander Hamilton, John Jay, Thomas Jefferson, James Madison and George Washington. (Per Wikipedia)
History records that these great men led the American Revolution against the Kingdom of Great Britain that contributed to the establishment of the United States of America. Now is the time for the "Remnant of Christians" to lead another American Revolution but this time it's against the kingdom of darkness. As God sent His messenger, General George Washington to make a plea in this day, let us join our hearts in one accord and make an appeal to God for our great country. Let's agree with God that none should perish but all should know the love of His Son Jesus Christ. Let us fall on the Rock for our fellow Americans and let the redeemed of the Lord say so!
Trackbacks and pingbacks
No trackback or pingback available for this article.
Upcoming Events
March 22 @ 7:00 pm

-

9:30 pm