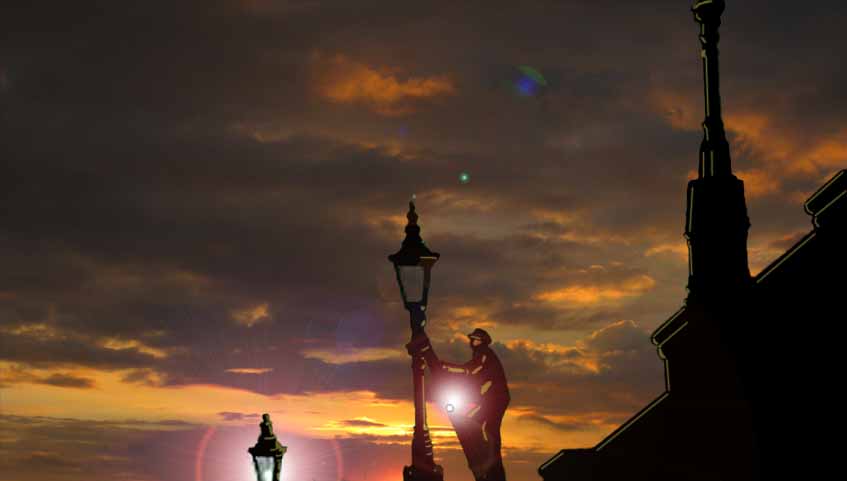 The Old Lamplighter
By Bonnie Jones
The other day the Lord woke me with a song that was popular in the late fifties, "The Old Lamplighter" by The Browns. Not only did I hear the song but I saw Bob Jones as well. The song is about an older white haired widower who walked about the town lighting lamps, as he would go. I knew the Lord was signifying a fresh and powerful anointing of God resting upon His children.
Years ago the Lord showed me Bob Jones as the "Old Lamplighter" and indeed that's who he was. Bob continually lit the fires of many people, both individual Christians and established ministries throughout the world. He opened their spiritual senses to life beyond salvation and imparted the fire of God into each one he touched. He opened their spiritual tombs of decaying darkness so God's marvelous light would shine forth from them.
Bob's Passing Charge
About a week before Bob's passing on Valentine's Day 2014, our good friend Gary Beaton was at Bob's bedside. I was present as Bob told Gary that he couldn't run anymore and asked him if he would run for him. Gary answered yes. Then Bob said, "Will you carry my torch?" Gary responded, "It would take millions of people to carry your torch for the billion soul harvest." Gary was trembling as he spoke. Bob said, "That's good. Take my torch and light other fires everywhere. And tell them thank you from me." With great honor and humility Gary accepted this task.
"Get ready for your light to shine, says the Lord. Get ready for the embers to burn. For out of the ashes of a dying fire new life begins. There's a new day on the horizon where the light of man will burn brightly. There will be no doubt in the mind of mankind that it is Me flowing forth from My children. There is power and life, resurrection life beyond man's understanding. There is great delight toward My children who walk in remembrance of Me."
"Here today, gone tomorrow – that has been the anointing of many. Why? They have not believed with a whole heart. There have been signs, wonders and miracles sporadically but get ready for a continuous flow of the Holy Spirit in power."
It's time for the sons of glory to arise in revelation power. It's time for the Shekinah glory to beam forth from His sons and daughters. Today is the hour of power and glory. Get ready as the Holy Spirit lights your lamp with holy fire. Don't limit what He wants to do through you. You are the new breed, the sons and daughters of God's glorious light!
Upcoming Events
February 14 @ 6:00 pm

-

9:00 pm