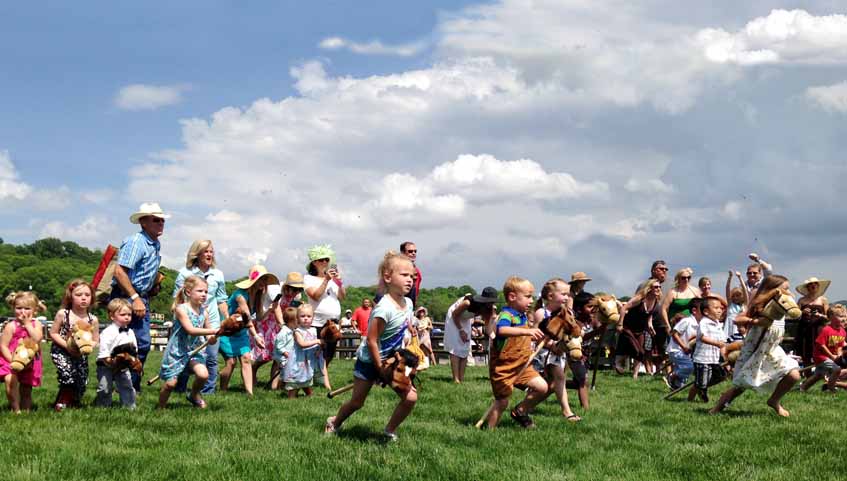 Grace, Grace
And the Great Cloud of Witnesses
By Bonnie Jones

In a dream it appeared there was a foot race about to begin. My granddaughter Ava Grace and myself were participants. There were approximately a dozen people our team made up of various ages. Ava being four while others were teens, twenties, forties and then of course me, sixty something.  Our line was staggered. Ava being the youngest was about twenty yards out in front while others were five or ten yards behind her and the oldest were back at the starting line. At first I called to her saying that she's cheating and needs to come back to the starting line. But she insisted this is where she's supposed to be and set herself in position to run the race.
That's when I noticed another team on the other side of the field facing us. Each team member appeared to be an adult standing on the finish line in single file. At first I was afraid for Ava because I thought the opposing team would knock her down if they advanced toward our line. But I was wrong. As I was able to focus more clearly on the other team, I realized they were part of the great cloud of witnesses that had already finished their race. There was so much love and joy oozing from them and they were so excited for us. They were jumping up and down waving their arms and with great enthusiasm. Then with arms outstretched beckoning us to come to them, I realized they were encouraging us to get moving now!
Therefore we also, since we are surrounded by so great a cloud of witnesses, let us lay aside every weight, and the sin which so easily ensnares us, and let us run with endurance the race that is set before us, looking unto Jesus, the author and finisher of our faith, who for the joy that was set before Him endured the cross, despising the shame, and has sat down at the right hand of the throne of God. (Hebrews 12:1-2 NKJV)
I believe the veil is very thin right now and in fact continuously getting thinner. The saints I saw had already finished their race here on earth but their promises are not complete until we finish our race. Each generation runs their race carrying the baton of the prior generation. Although Bob Jones was a mighty anointed prophet of God he would often say that his ceiling must be our floor. He believed the next generation must take the anointing higher than he did. Just like Elisha received a double portion of Elijah's anointing, we must go deeper in Christ and higher in the Spirit. All of our promises are hidden in Christ and are continuously being unfolded.
These all died in faith, not having received the promises, but having seen them afar off were assured of them, embraced them and confessed that they were strangers and pilgrims on the earth. (Hebrews 11:13 NKJV)

Ava Grace
What's in a Name?

I feel my granddaughter's name Ava Grace, is significant in this dream. Ava means, "filled with grace and one whose heart is filled with song." And the name Grace means "full of grace." Therefore I believe God is extending grace, grace to His children to speak to and overcome every obstacle and hindrance in their life. Because it's not by might nor by power, but only by His Holy Spirit (Zech. 4:6) that we shall endure the race ahead. It's not going to be an easy race but like the great cloud of witnesses have already done; we also must keep our eyes upon Jesus and cast aside every burden. He is the author and finisher of our faith. We must be like our predecessors that yielded to Jesus and looked beyond the cross to the joy that lied ahead. Christ endured the cross for the sake of His inheritance. We are His joy and likewise He is ours.
"This is the word of the Lord to Zerubbabel: 'Not by might nor by power, but by My Spirit,'says the Lord of hosts. Who are you, O great mountain? Before Zerubbabel you shall become a plain! And he shall bring forth the capstone with shouts of "Grace, grace to it!" (Zechariah 4:6-7 NKJV)

The word grace means "kind, lovely and charming." But God's grace means getting what you don't deserve. The Lord spoke to me about grace.  He said, "You see people feel grace is all about being friendly and kind and doing good for one another. It is not that at all. Grace suspends judgment and My judgment is final. My grace allows for human error to be revealed and repent so that My mercy covers the sin." Mercy means not getting what you do deserve. I believe God is granting us a time of grace for self-examination and repentance for sin so we can run our race unhindered. Then we can express His grace toward others through love.
I found it interesting that a four-year old was leading the way. She was out in front of the rest and focused. Even when I brought distraction she discerned by the Spirit to run her race. The older the other participants were the nearer they stood to the starting line. I believe that speaks volumes. The youth of today are grasping spiritual truths far quicker than adults because their spirits have not been defiled by the world. Adults would be wise to pay close attention to their innocence and follow after them. If not, some will be left standing at the starting line waiting for the starter to fire his pistol.

Arise, shine; for your light has come! And the glory of the Lord is risen upon you. (Isaiah 60:1 NKJV)

It's time for all of us to arise and let the Lord's light shine through us into a dark world. It's time to run our race keeping our focus on Jesus and knowing the great cloud of witnesses are surrounding and cheering us on. Their promises are incomplete without us. Like Bob's promise of a billion-soul harvest can't be complete until we do our part. Let's join together and run our race and not grow weary. And let His glory rest upon you to refresh and strengthen you along the way.
Upcoming Events
March 8 @ 6:30 pm

-

9:00 pm